Cirque Du Soleil: TORUK Day Tour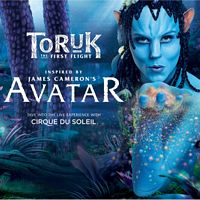 Inspired by James Cameron's Avatar, Cirque du Soleil's TORUK: The First Flight transports you to the world of Pandora in a visually stunning arena spectacular.
Itinerary

Depart our 20 Verdant Siding Road at 6.00am. Travel to Gympie for morning tea before continuing on to Redcliffe for lunch (own expense). Afterwards, travel to Brisbane to arrive at the Brisbane Entertainment Centre in time for a 1.00pm show. Be transported to Pandora in this visually stunning arena spectacular inspired by James Cameron's Avatar. After the show, return to Bundaberg with a meal stop (own expense) in Gympie along the way.
Travel Insurance

Travel insurance, offered by SureSave, is available and recommended on all tours. There is an option to purchase this or request a quote when booking online.
Payment Terms & Conditions
A non-refundable $125 deposit is required upon booking online. Final balance is due to be paid on or prior to 13th September 2017.
Cancellation Policy
The deposit portion of the fare is non-refundable. The following cancellation fees apply to bookings cancelled within 30 days of tour departure date:

30 - 21 days = 25% fee of full tour cost less deposit
20 - 7 days = 50% fee of full tour cost less deposit
7 - 1 days = 75% fee of full tour cost less deposit
within 24 hours = 100% fee of full tour cost less deposit
Contact Us

Bundaberg Coaches are located at 20 Verdant Siding Rd, Thabeban QLD 4670.
Call 0741531037, email info@bundaberg-coaches.com.au or follow us on Facebook at www.facebook.com.au/bundabergcoaches.
Use the "Contact Us" box on this page or details above to get in touch.